What do you do when you've taught your dog every trick in the book? Well, the obvious option would be to find more. Without the room to make this possible, it may be fiddly and complicated.
You may think you need a huge garden and a lot of money. The thing is, you can build your dog training heaven right in your backyard, and it won't cost you your retirement!
Training your dog is fun and rewarding, and why shouldn't you? In this article, we'll teach you how to build your dog agility course. It's the perfect DIY project, even for beginners. 
First things first, think about what kind of agility course you would like to build, along with your dog's ability. As you're thinking about what type of obstacles to set up, make sure they are correct for your dog's ability, as well as your dog's size.
For example, do not set up high jumps for a small dog like a chihuahua. It is also best not to force your dog's ability, so make sure the course is right for them.
Typically dog courses have between 14 and 20 obstacles, depending on the desired size of your course. If your dog is just starting, it may be best to stick with basic obstacles.
It is now up to you to decide if you want to build an agility course with basic household materials (not permanent) or an agility course with actual equipment. 
Household Materials Agility Course (Option 1)
For the agility course made with household materials, you need:
A long stick
A cardboard box (large, preferably)
Blanket
Garden stakes
Two buckets
Firstly, simply cut off both ends of the cardboard box to form a tunnel for the tunnel. Alternatively, you can drape a blanket over some chairs. This is perfect for starting out. 
For the jump obstacle/pole, balance a stick such as a broomstick or a mop stick over two buckets/pots lined up. The bar will fall off if your dog misses, but it ensures your dog will not get hurt, and it will not cost you too much!
To create the weave poles, place garden stakes into the ground in your garden in a straight line. They should be approximately 24 inches away from each other. This will allow your dog to weave through the poles safely. 
Dog Agility Course (Option 2)
For a more professional dog agility course, you'll need to buy some equipment from your local hardware store. Firstly, plan out how you want your agility course to look and what elements you'd like to include. 
Dog Walk
For the dog walk, you will need: 
Six pieces of PVC, cut at 30cm. 
Eight pieces of PVC, cut at 15cm.
Four elbow joints (PVC)
Eight T-pieces (PVC)
A hammer or mallet. 
These are for one of your cubes, so double these measurements as you need two. 
To create the dog walk, start by making the two bases for the planks to lie on. To make these, grab two T-pieces, along with a 30cm PVC. Attach each T-piece to the 30cm piece. Repeat these twice, so you have two, making bases. 
Grab four of your 15cm PVC cuts, and hammer them in lightly to the top of each of the top of the T-pieces. Get four more T-pieces, and attach them to the 15cm pieces.  Then, get two of your 30cm, and attach them to the two t-pieces you just attached. 
Grab the other half of your base, and hammer that in together. Now, you'll have a small square base. To finish it, grab your remaining four 15cm cuts, and attach them to the top of each t-piece. 
Finally, grab the four elbow joints and attach them to the frame, with them pointing toward the center of the base. Then, connect your two remaining 30 pieces so that they will form a completed cube.
Place your two dog walk bases around two feet apart, and get yourself three planks of wood. They can be any length, but they should be at least a foot wide.
You need one to sit across the base and two to slope downwards. To attach them, you can screw them together or attach them with door hinges. To do this, you need to put a door hinge on either side of the base that is sitting across the base.
Then, you can attach the other part of the door hinge to the other two planks so that they can clip on and off of the central door hinge, securely and safely.
This means you can also dismantle your dog walk whenever you like. The size of this dog walk is small, but you can adjust it to your desired size! 
Tunnel
You can use a premade dog tunnel for the tunnel, which you can buy at any pet store. If you want to make your own, you can grab yourself some corrugated tin tubes.
There are plenty of options for all types of budgets, and if you have a scrap site nearby, for a small price, you get ahold of some corrugated tin for a tunnel or even a plastic pipe you can cut yourself.
If you are looking at metal, make sure it is suitable for wet weather, and if it is hot, maybe go for something like plastic. It all depends on whether you want a permanent or collapsible structure. 
Weave Poles
For your weave poles, there are many DIY options. You can use anything like poles you have lying around, wooden sticks, or even tall pegs or stakes. The most obvious and best option would be PVC again. PVC is plastic, so it is sturdy and is light.
Make sure to space your weave poles around two feet apart, ensuring room for your dog to weave in and out of the course. Your PVC poles should be around 2.5cm in diameter and placed along a pipe base.
To do this, you can create the base with long PVC pipes spaced two feet apart, with T-joints connecting them on the ground. Then, place your PVC pipes in the joints to create an upright pole for weaving.
Alternatively, you can just push some PVC pipes into the ground, but do make sure they are not pushed in too deep.
They should be sturdy enough that your dog can run in between them without them falling, but they should not be so sturdy that they are hard and may hurt your dog if they run into them accidentally. 
For the PVC weave poles, you will need:
4 30 inch
3 21 inches
4 12 inches
2 8.5 inches
6 t joints
8 end caps
First, put your end caps on the 12-inch pipes. Put an end cap on one side of each of these 12-inch poles. The 30-inch poles will act as your weave poles. Place end caps on all of your 30-inch poles, too. 
Connect your two 12 inch poles with a T-joint. Do this twice, so you have one stabilizer at each end of the weaving poles.  Next, add the 8.5-inch pole into the top of the joint you have just made.
This will create an end for your weave poles and will ensure it does not fall over. It should look like a 'T' placed on its side, and you should have two of these.  Next, add a T-joint to this, then connect one of your 21-inch poles. 
Add another T-joint, and repeat this until you have used all three of your 21-inch poles. Then, connect your last 8.5-inch pole on the end, with a T-joint connecting it to the other side of your weave pole stand.
You should now have a line of poles with T-joint holes pointing upwards, with stabilizers on each side. In the holds, place your 30-inch poles.  You should now have four weaving poles for your dog! You can also make the structure longer if you wish to add more poles.
You will need to simply add more of the 21-inch poles along with a few more T-joints and 30-inch poles. 
Standard Dog Jump
Finally, it is time to make your jump! To make your jump, you will need:
6 12-inch PVC poles
8 6-inch PVC poles
16 end caps
10 2-inch PVC poles
1 39-inch pole
1 36-inch pole
12 T-joints
It is pretty simple to construct your jump pole. Firstly, the six 12-inch poles will form the feet/stand of the jump. Connect two of your 12-inch poles with a T-joint and place end caps on the open end.
Repeat this, so you have two identical poles. Attach the other 12-inch pole at the top of each of your stands, so it will form an upside-down 'T.'
Add a T-joint to the top of each of these, and connect it with your 36-inch pole. It will now be able to stand upright. Now, add a 6-inch piece on each side, connecting these to T-joints.​
Repeat this four times, so you have four T-joints on each side above your 36-inch pole. Add end caps to the top of the top T-joints.
Now, add your 2-inch pieces to all of your t joints on the sides (there should be four on each side). You will now see the shape of the jump. So, the 2-inch pieces will act as protruding 'shelves' for your 39-inch pole to sit on top of.
You have four pegs, meaning you can adjust the 39-inch pole to the height of which your dog will be able to jump. The pole will not be attached, meaning if your dog cannot make the jump, it will not fall off and hurt them. 
Final Thoughts
It can seem pretty difficult to build a dog agility course yourself. However, once you have familiarized and visualized all of the steps, you only need to spend a minimal amount of money on PVC, along with a few tools here and there.
It is fun, inexpensive, and also teaches you some excellent skills! Building your own dog agility course is rewarding, and you have the freedom to build it for the ability of your own dog.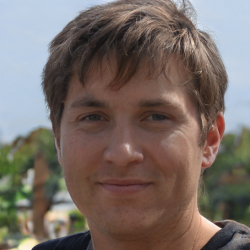 Latest posts by Daniel Johnson
(see all)